Location Boca Grande is the perfect getaway spot to fish tarpon, redfish, snook on fly or live bait, and Captain Mark Becton is just the right guide for the fishing adventure of a lifetime!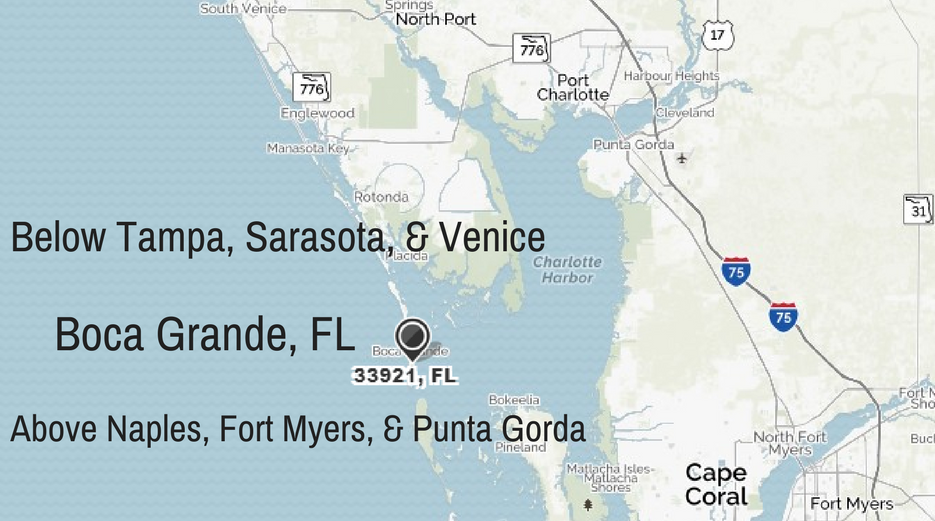 Location Location Location . . . . . .
Boca Grande
Tucked away, along the Gulf Coast of Florida, Boca Grande is the perfect spot for the adventure of a lifetime! If you are not familiar with our beautiful area and pristine coastline – be sure to check out the Boca Grande Chamber of Commerce and other information below. 
 Location Boca Grande
Source United States Coast Guard – JPG, Public Domain, Link – Article Public Domain Wikipedia 
Boca Grande, FL was once a sleepy little island fishing village, and a home for wealthy "beachfronters" .  In many ways, it remains so today. Although Gasparilla Island has done a lot of growing over the years, it still remains a little piece of paradise which feels as though it's a world away. 
A typical 80-day Florida season in Boca Grande Pass produces an average 5,000 tarpon landed. As a result, it is one of the world's best tarpon fishing holes. It has been reported to yield more tarpon than any other location in the world.
With depths reaching near 80 feet, it is the deepest natural pass in Florida. It is the only major outlet of Charlotte Harbor that is fed by two major rivers, the Peace River and the Myakka River. As the bottleneck of the harbor, the currents are strong and serve as an underwater highway for many species of fish and bait.
History – Fishing Location Boca Grande
Harpooning tarpon is documented back to the late 1700s by British settlers. There is some debate among historians on who caught the first tarpon on rod and reel in Florida. The fish gained fame from an 1885 story published in the magazine Forest and Stream. The article detailed an event that took place on March 12, 1885. On that date, a New Yorker named W.H. Wood landed a 93-pound tarpon at the mouth of the Caloosahatchee River. While it may have not been the first tarpon caught on rod and reel, the fish's capture generated much publicity. It is at least credited as exposing tarpon fishing to the world. Soon after, tarpon were given a game fish status to protect them from harpoons and nets that were common methods of taking tarpon.
In the late 1890s, a then modern railway system was completed that gave the area access to the outside world. Soon sportsmen from the north as well as from Britain flocked to the area in quest for giant tarpon. Southwest Florida and the Florida Keys soon became the new headquarters of the sport fishing world. Fishing tourism grew even bigger when in 1908, Barron Collier built a "Tarpon Inn" on Gasparilla Island and made the island's town of Boca Grande world-famous as the "Tarpon Fishing Capital of the World".
Learn more about the Historical location Boca Grande from the Boca Grande Historical Society here. 
 Location Boca Grande
Anglers from all around the world make their way to fish for tarpon in the pass, and along the beaches of Boca Grande every year. The area is home to many other species and popular for its beautiful beaches. The quaint atmosphere, warm, clear waters of the Gulf, and excellent fishing make it a favorite destination for anglers and families alike.
---
Plan Your Angling Adventure
Charters | FAQ's | Photo Gallery | About Boca | Capt Mark | Location | Lodging | Restaurants 
If you're looking for an exciting day trip adventure or wish to spend a week or two on the water fishing Boca Grande, Charlotte Harbor, or the back bay areas – look no further! We'll direct you to resources you can trust. 
Book the angling experience of a lifetime – fishing the Gulf coast of Florida. Make your reservations today for a Boca Grande fishing charters adventure! Call or text and leave an EVENING phone number where you can be reached. Call or Text (941) 628-6894 email: [email protected]
Book Boca Grande fishing charters now the best dates fill up quickly!