There's something special about Boca Grande! Discover what we have to offer your crew . . .  Gasparilla Island is a unique luxury vacation destination. Anglers, families, and adventure seekers flock to this quaint island community. It seems a world away – yet is conveniently located along the coast in Southwest Florida. 
Additionally, beautiful Gulf beaches, shelling, and quaint island lifestyle combined with a rich and interesting history make Boca Grande a favorite hidden gem among anglers as well as a terrific family destination.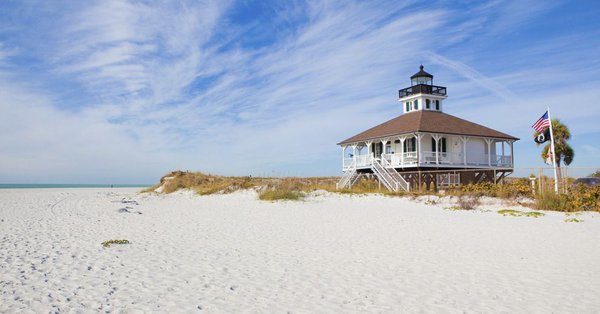 Whether you're fly fishing Florida for tarpon, or bait fishing light tackle for redfish, snook, or trout – Gasparilla Island with Captain Mark Becton, offers the angling adventure of a lifetime! 
About Boca Grande
Gasparilla Island is known as the "Tarpon Fishing Capital of the World". Boca Grande is also home to some of the world's best beaches – making it the perfect destination for both serious anglers and families alike.
In addition, to shopping, dining, and art galleries making up part of the downtown area, the island boasts Gasparilla Island State Park at the south end. You can even rent a golf cart to tour the island. Visit the historical library to grab a book or two for reading while you relax on the beach. Enjoy some of the best shelling in Florida, swimming, or biking. So, bring the family for island-style vacation memories, or come alone and challenge your skills as an angler. Learn more about Boca Grande and you'll likely agree – it has something for everyone in your crew. 
---
Plan Your Angling Adventure
Charters | FAQ's | Photo Gallery | About Boca | Capt Mark | Location | Lodging | Restaurants 
If you're looking for an exciting day trip adventure or wish to spend a week or two on the water fishing Gasparilla Island and Charlotte Harbor – look no further! We'll direct you to resources you can trust. 
Book the angling experience of a lifetime – fishing the Gulf coast of Florida. Make your reservations today for a Boca Grande fishing charters adventure! Call or text and leave an EVENING phone number where you can be reached. Call or Text (941) 628-6894 email: [email protected]
Book Boca Grande fishing charters now the best dates fill up quickly! 
Follow on Facebook | Pinterest | Instagram | Twitter
---
Captain Mark Becton – Fish SWFL  – Fly fishing – Fly fishing Boca Grande FL – Fishing Florida – Tarpon fishing Charters Boca Grande FL – Tarpon Capital of the World – Fish on FL – Fish on Boca Grande – Fishing Charlotte Harbor – Fishing Gulf Beaches – Fly fishing Guide – Fly fish Tarpon – Fly fish redfish – fly fish snook – fly fish trout – bait fish boca grande  – tarpon season – snook season